Frankincense and Cancer
     Many people in my family and friend circle have been fighting cancer.  My sister who has been studying edible essential oils brought this wonderful information to me.  This is my research and I do believe that dōTERRA oils are exceptional oils for consumption and their healing properties.  I will soon be selling these myself
History:

     Frankincense trees were once considered extremely valuable during ancient times. Their location was often a matter of national or state secret. Many Egyptians used the incense to fumigate their homes or for ritual incense. They even used thre oil for cosmetics. It was used as a holy anointing oil. It was considered  a general cure-all for all diseases. It was also used to enhance meditation and elevate spiritual consciousness.
     History shows it was used for embalming and as a perfume. It formed an important part of the Sabbath day offering. Frankincense or Olibanum is mentioned in the Scriptures over 50 times and is also found in the books of Exodus, Leviticus, Numbers, Chronicles, Nehemiah, Song of Solomon, Isaiah, Matthew, and Revelations.
In my research I  learned that Frankincense is resin (a.k.a. dried sap)  from the Boswellia tree. The highest quality flows creamy white and is called luban, meaning "milk,"  although the color can vary from soft yellow, to rich amber or even luminous green. It just depends on the season.
The essential oil of frankincense is produced by steam distillation of the tree resin. The oil's chemical components are 75% monoterpenes, sesquiterpenes, monoterpenoles, sesquiterpenols, and ketones. It has a good balsamic sweet fragrance, while the Indian frankincense oil has a very fresh smell. Contrary to recent claims, steam or hydro distilled frankincense oil does not contain any boswellic acid as these components (triterpenoids) are non-volatile and too large to come over in the steam distillation process. The chemistry of the essential oil is mainly monoterpenes and sesquiterpenes with small amounts of diterpenoid components being the upper limit in terms of molecular weight.
 A powder might be better for consumption to benefit from the boswellic acids.
Actions of Frankincense:
The many actions of frankincense include anti-inflammatory, anti-tumoral, immune-stimulant, antidepressant and muscle relaxing. It  also stimulates the limbic system as well as the hypothalamus, pineal and pituitary glands. It is a strong anti-viral, antioxidant, antifungal, antibacterial, antiseptic and expectorant oil. Frankincense has the ability to relax and revitalize at the same time.
Cancer Research Using Frankincense:
There are a few researchers studying the effects of frankincense on various cancers with some degree of success. In vitro, a study done in a glass or test tube, shows inhibition or stimulation of cell proliferation depending on the concentration of frankincense oil in the growth media.
A recent study conducted at the University of Oklahoma showed that frankincense can kill bladder cancer cells without harming the surrounding tissue.
Studies are showing frankincense to be a strong immune-stimulant with some claiming that frankincense has the ability to repair DNA.
A Chinese study conducted in 2000, indicated that Boswellia acids have "anti-carcinogenic and anti-tumor activities." These boswellic acids from frankincense inhibit "a variety of malignant cells" in people suffering from leukemia and brain tumors.
The Cancer Research Institute of the University of Nevada  has also treated cervical cancer with frankincense, in which "there was 72% inhibition and growth of non-cancerous cells."
Other studies have shown thatthe  boswellic acids from frankincense can exert anti-prolifertive activity toward a variety of malignant cells.
Another study showed that the boswellic acids are very potent apoptotic agents to cancer cells and  even another one shows that the Boswellic acids from frankincense gum exhibit potent cytotoxic activity against CNS tumors.
Why haven't we heard about this before?
It sounds unbelievable but the anti-cancerous effects of frankincense has been known for thousands of years. Will it work for everyone? Unfortunately, No, but compared to the effects of chemotherapy, frankincense has shown great promise in the past,  for us now and for the future. Frankincense will never be promoted for the breakthrough that it is because there is no money to be made in its promotion. Drug companies will not make money this way getting rid of Chemotherapy.  Though Frankincense is expensive in comparison to other therapeutic grade oils but it is very cheap in comparison to drugs like chemotherapy. Unlike chemotherapy is is relaxing and uplifting instead of deadly, poisoning, and lethargic
    Many scientists have observed and can agree that there is some unknown agent within frankincense which seems to stop cancer spreading and induces cancerous cells to close themselves down. Immunologist Mahmoud Suhail has been quoted "Cancer starts when the DNA code within the cell's nucleus becomes corrupted. It seems frankincense has a re-set function. It can tell the cell what the right DNA code should be.  Somehow, Frankincense separates the 'brain' of the cancerous cell - the nucleus - from the 'body' - the cytoplasm, and closes down the nucleus to stop it reproducing corrupted DNA codes."
     Currently, with chemotherapy, doctors blast the area around a tumor to kill the cancer, but that also kills healthy cells, and weakens the patient bringing them close to death.. Treatment with frankincense could eradicate the cancerous cells alone and let the others live.The task now is to isolate the agent within frankincense which, apparently, works this miraculous function.
History Medical Research (Bosellia serrata)
In Ayurvedic medicine, Indian frankincense known as Boswellia serrata and is commonly referred to as "dhoop," has been used for hundreds of years for treating ailment like arthritis,  the healing  of wounds, strengthening the female hormone system, and purifying the atmosphere from undesirable germs. The use of frankincense in Ayurveda is called "dhoopan". In Indian culture, it is suggested that burning frankincense everyday in your house brings good health and peace to the home..
 The Standardized preparations of Indian frankincense from Boswellia serrata are  currently being investigated in scientific studies as a treatment for many chronic inflammatory diseases such as Crohn's disease, ulcerative colitis, and osteoarthritis. Initial clinical study results have indicated
the power or capacity to produce a desired effect
when usingincense preparations for Crohn's disease. For therapy trials concering ulcerativecolitis, asthma, and rheumatoid arthritis there are only isolated reports and some pilot studies from which there is not yet  conclusive sufficient evidence of safety and efficacy. Similarly, the long-term effects and side effects of taking frankincense has not yet been scientifically investigated. 
As of May 2008 FASEB Journal announced that Johns Hopkins University and the Hebrew University of Jerusalem have determined that frankincense smoke is a psychoactive drug that relieves depression and anxiety in mice. The researchers found that the chemical compound in Censole Acetate is responsible for the effects.
In a completely different study, an enriched extract of "Indian Frankincense"  was used in a randomized, double-blind, placebo-controlled study of patients with osteoarthritis.  The patients receiving the extract showed significant improvement in their arthritis in as little as seven days. The compound seemed to cause no major adverse effects and, according to the study authors, is safe for human consumption and long-term use. Please beware that the study was funded by a company which produces frankincense extract, and that the results have not yet been duplicated by another study.
 There is approximately 54,000 malignant melanoma cases are diagnosed annually, according to the American Cancer Society, and there are many similarities between malignant melanoma in horses and malignant melanoma in people.
Recognizing this great opportunity for translational research, John Robertson, a professor in the Virginia-Maryland Regional College of Veterinary Medicine at Virginia Tech, has been studying the disease and an experimental treatment involving frankincense oil.
During a recent presentation before a regional meeting of the American Cancer Society in Roanoke, Va., Robertson -- director of the college's Center for Comparative Oncology -- said he's found that Frankincence oil has fairly selective anti-tumor activity and doesn't appear to disrupt normal cells. Robertson said."I think this research on frankincense oil suggests that this ancient medicine may have significant modern uses for chemotherapy of non-resectable malignancies,"
Links to Research:
Recipes for frankincense:
August 9, 2012
By
Sasha Martin
  of http://globaltableadventure.com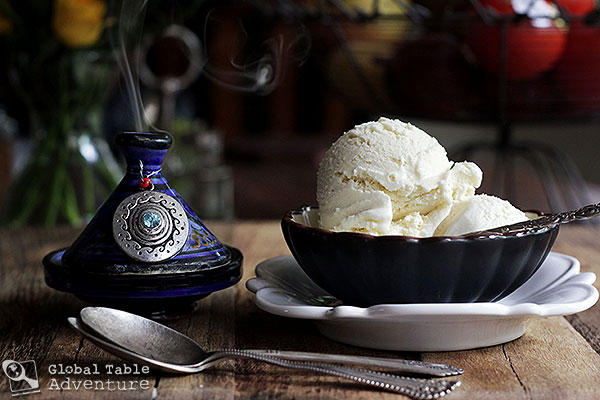 *
Very Important
 100% pure Frankincense oil should never be consumed "straight," but should always be diluted. Please read the following article on the side effects (and benefits) of consuming 
Frankincense essential oils
 prior to consuming frankincense oil. While their label may say "Not for consumption", the company Aura Cacia (available at Whole Foods) has stated that (for their products) this has more to do with USDA regulations than the actual safety of the product (assuming that the essential oil is 100% pure boswellia sacra, with no additives). Read the
entire article
 for more information. After reading all this material I felt comfortable serving this dish to my family (as they do in Oman without a second thought). None of us suffered any ill effects. Please make the decision that's right for
your
 family.
Ingredients:
2 1/2 cups milk
1 1/2 cups heavy cream
10-15 drops 100% pure frankincense oil (boswellia sacra), available at health food stores*
or powder more info at http://herbs.lovetoknow.com/Frankincense_Raw_Powder
1 cup sugar, divided in half
3 egg yolks
First, whip three golden balls of sunshine (egg yolks) with a 1/2 cup of sugar
You want  the mixture to become thick and soft yellow.
Meanwhile, heat up the milk, cream and remaining sugar in a medium pot.  Slide off the stove right before it reaches a bubble and whisk the hot liquid a little at a time into your egg mixture.
Return to medium-low heat and cook until thickened and the velvety mixture coats the back of a spoon.
Whisk in the frankincense drops to taste and strain. Tip: the oil will want to separate so move quickly to incorporate it (as though you're making salad dressing). Chill the mixture in an ice bath or overnight in the refrigerator. Churn in an ice cream maker according to manufacturer's instructions.  or freeze if you do not have one.
.