By Jenny Coffey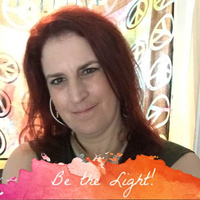 The nurse smiled as she calls my name. We walk down the hall and into a bay where of course there was a gown. "Opening in the back please," she smiled and said, then drew the curtain. I could hear her around the other side asking if I needed any help as I gingerly removed my clothing to place this cold blue and white gown on, leaving little for modesty and much for cold air. 
Inside my nerves feel like fluttering butterflies from my navel to my throat, an almost overwhelming sensation. I took a few deep breaths as another nurse came in to hang a bag of IV fluids. I looked at her and smiled and asked "What flavor is today?" She stopped and looked at me and said "Well, it's kind of salty," and I stopped her and said "Oh, that means it's an ocean flavor, so that works for me." The nurses smiled and laughed, telling me how much they loved my attitude. Inside there's a battle to keep that attitude to not give in to the dark and feelings, but to sit in that chair and think that yet again, here come the needles, one to the chest and  into the port. That port was supposed to be inside me for one year; that was over three years ago and now it seems I will face lifelong infusions, and with that a lifelong port. 
The nurse is impressed because I'm using the "myID" application on my phone and wearing an emergency alert band, as this is something my overprotective son insisted that I have. I love him greatly for what he does and it's a great subject. The nurse was so impressed that it garnered the attention of other nurses, who all came over to take a look. I had to laugh a little because the nurse said she was feeling as if she was neglecting me, because normally she has to ask a lot of questions, but I had supplied her with all the answers and a convenient little laugh on my phone. Using technology we can sometimes make our lives a little bit easier, especially when we are the "train wreck" patient. Don't take that comment as a self negative, as it is for me a term of endearment. I am that complicated patient with more acronyms and diagnostic codes under my name than most twice my age. If you don't have fun with things like this it can get depressing. 
The nurses place the masks on themselves and me preparing to access my port. They give me medication that should make things a little easier for me. This time they're going to put needles into my abdomen and directly into a bundle branch of nerves in the attempt to get my malfunctioning tram flap reconstruction the stop squeezing my heart, lung, stomach, and diaphragm, causing scary situations. Sometimes I feel as if I'm breathing through a straw. Maybe that's giving it too much credit; sometimes it feels as if I'm breathing through a stir stick for coffee. I make it a point to show off my socks because in my sick sense of humor I find it amusing to wear fun socks that the nurses will see, so why not give them something a little fun to look at. 
It's hard to know that you have a form of dystrophy that affects the neuropathic system of your body, and to know that it can do damage to organs and shorten life expectancy. I guess in a way it also gives us an advantage because those of us who have this rare disease, I think get a little bit more out of life. We see the little things more clearly than others, and in that we find that the simple pleasures are the ones that are most important. 
You find the little tricks to try and help you get through your day and be able to have quality in it. For me as a writer that means laying in bed using my computer and talking to it, hoping that it's going to type my words correctly and not give me an interesting spell checking moment. I've had my fair share of those and I'm sure that I will have more in the future which can sometimes be pretty amusing. 
I really enjoyed when the doctor came in. I smiled at him and admired that his lead suit was not the customary black, but was a beautiful starscape, an astronomical work of art in lead that he would wear inside the procedure room to protect himself from radiation. The amount of radiation that these staff members often expose themselves to are quite high, and it's really neat when you see somebody having a little bit of fun with some of the protective wear . 
I've had blocks done in many forms, from rectus sheath to paravertebral, and I've had lesioning and ablations. I honestly can't say how many. Over the years of trying to find treatments and cures for what ails this broken body, there has been failure after failure. 
Sometimes you're left feeling as though you've been the victim of some type of barbaric ancient treatment. Far too many times I've laid in a bed and screamed and cried uncontrollably because the pain was worse than any pain I've ever felt before. You see these blocks are injected directly into the nerves. Imagine a raw nerve with a knife in it. Now imagine that they're pushing fluid into it, even though it's not meant to really hold that. So that's pressure, and I have to say that I was afraid. A normal sense of fear that anybody would have when they're going to a new place with a new doctor for a procedure, and hoping that it's going to go well. 
After working most of my life in health care and hospitals, it reminded me of the hospital that was near and dear to my heart. Jordan Hospital the first hospital I ever worked in. Back then we were like a little family. We would have barnecues in the parking lot and take part in a lot of initiatives, many of which were created by us. We had a lot of pride in our small town hospital and provided top notch care. In that room I felt as if I was back there surrounded by the staff that had known me even though they had just met me. 
They comforted me in warm blankets, smiled and laughed with me, chatted with me, and didn't leave me to sit alone in fear, which is most often the case, but not at this place. They asked if I wouldn't mind walking into the procedure room that was just around the corner, and I did so gladly. We walked down towards the room as if we were walking off to go to a party, with me playing with my IV line. She would just smile and say "Stop, you're bad," all while laughing and others laughing as well. 
They made me comfortable on the bed and got the IV hooked up. I can remember the nurse giving me the medication that was supposed to put me in a state of conscious sedation, and my next memory is sitting in recovery and a chair, being offered a warm cup of coffee and a freshly toasted english muffin with butter and jelly. In that moment I just kind of wanted to cry, not in sadness but in happiness, to be treated like a patient and not like some kind of odd criminal or drug seeker or "emotional woman." 
My body has betrayed me and now I have to fight in order to keep quality of my life. There may be times when getting out of bed is a struggle, so hard that it's reserved for the absolute moment when one must go and relieve themselves. or simply can't wait for something to drink anymore. 
This disease is nicknamed "the suicide disease". it was first discovered back during the Civil War, which doesn't give someone who has it much hope. You have to understand that there's little known about our disease; it's so rare and uncommon that it's never received a champion that wanted to bring money into research and try to help. 
Nowadays they call it CRPS (Complex Regional Pain Syndrome). Some doctors separate it into types. "Type 1" is for someone who doesn't have a known injury to a nerve, and "type 2" is someone who is known to have a nerve injury, which is what I am. Believe it or not, that causes problems with trying to get into studies, and I do try. And neuropathic dystrophy will progressively get worse. 
There's no need for sympathy or tears. I'm one of the lucky ones in a way. I have time to try and ensure that I tell the people that I love how much I care about them. And I make it a point to enjoy time with the people who love me. 
I know some people have what they call the bucket list, but I've never been a big fan of that term. I think it leads to too much negativity. I like to think that I have a to-do list, things that need to be accomplished, and little by little I hope to get each of those things accomplished to the best of my ability. I get the cut myself slack for the things that are physically not in the cards for me, and I get to relish all of the things that occur that are available to me. 
This disease has taught me to appreciate the things that I have more. I found that I could truly appreciate things more and change my perspective to one that is more positive. I certainly have no intention to allow this disease to take me. I'd like to think that I will live to be old and annoying to a few good CNAs and nurses at some nursing home some day. I think my generation will make an interesting elderly population. 
In closing, I want to give you the one thing that has always been given to me by friends and family, and that is Hope. I thought that I had lost all hope and found that there was good reason to keep hope alive. I know that sounds cliche but it's true. The ketamine infusion therapy has made a significant difference in my life. The doctors, nurses and staff at the high-tech specialist anesthesiology group that I go to now are truly top notch. They're not in it for the money alone; I mean, let's not be silly here, everybody needs a paycheck. But they care enough the take the extra time that it is needed to make sure you will not suffer, and you will not feel tortured. I want to give hope to others that you can have humane treatment, and there is reason to keep fighting. Don't give up, and if you feel like giving up, phone a friend, a family member, anyone, but don't give up. Remember, this is but a moment and it will pass. 
The National Suicide Prevention Lifeline (1-800-273-TALK [8255]) is a United States-based suicide prevention network of 161 crisis centers that provides a 24/7, toll-free hotline available to anyone in suicidal crisis or emotional distress.