Column: The Elegant Edge
By Jenny Coffey
Former New Hampshire State Representative 
Article: The Wicked Ulu Set from RT Knives Review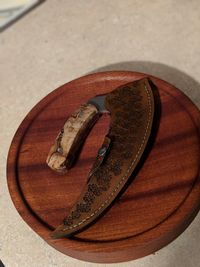 Seeing a lot of knife reviews and reading articles written by so many recognized writers can make a writer feel a bit nervous while looking at a maker's work to start writing about knives.  I want to offer a different perspective to reviewing knives, one that isn't from the maker to maker or the expert knife review. 
I will offer here, and into the future, a look at various knives and how they appeal to me as a woman, a mother, and former EMT, with a love of cooking and painting, and someone who struggles with pain. My eye now is a little different than it was in my days in emergency medicine. Back then I would appreciate a good knife over a subpar pocket tool, but I did not have the added perspective of what I can now see; things like cutting canvas without shredding it when preparing to create a painting, or how easily a carrot or potato cuts, matter to me now. 
What happens when you know how to use tools but, as my Gram would say, "The body beautiful is not complying?" Sometimes I find things I like but can't use. I also now have the perspective of someone with limited abilities.  With weakness in my arms and hands, what was once hard can be impossible at times.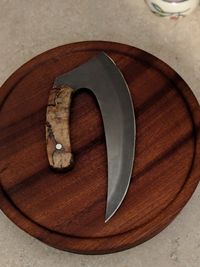 I recently took a good look at the RT Custom Knives' Wicket Ulu, designed by Ross Tyser. The set includes the Ulu blade, teak treated round double sided cutting board, and a hand made leather sheath with a gorgeous imprinted design. The blade is a solid tang with beautiful stainless steel, so food slides easily off of the blade. I like the design and was surprised to find it comfortable in my hand. At first it seemed intimidating for a kitchen knife, but it is a lot lighter than it looks. Still, it has a nice weight to it and takes some of the work out of cutting for you. Tyser has been creating cutlery for almost 30 years now. The grinding is smooth from end to end. 
The Wicket Ulu has a nice edge and blade that looks like it would hold up for many years of use. The quality is top shelf. This is the kind of piece that makes for a great wedding gift or perhaps your parents' anniversary. Anyone who enjoys cooking is going to love this complete set. The finish on the handle is soft and comfortable even in my hand, which is smaller than that of the average bear. The way the blade fits my hand, it feels well balanced, and easily sliced paper into shredded pieces with little effort from me. It is a heaver blade for me, which would normally limit how long I would be able to cut with it because of lymphedema on my dominant cutting side. Even with this, the amount of work I accomplished was a full salad.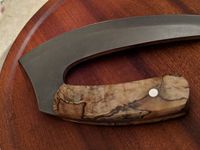 If I had the chance to add something, and this might be a bit outside the box, but it would be a comfort grip that could be added, removed, and easily cleaned would enhance the ease and comfort of use.  With a comfort grip, the Wicket Ulu would be even more user friendly to those with disabilities or an elderly person having a hard time gripping, especially if the handle was to get wet. 
The Wicket Cutting Board is a beautiful piece of teak treated craftsmanship. I like that you can use it on either side, and one side has edging that will help with cutting your celery while keeping it from falling off, or use the flat side of the board for a little larger cutting surface. The round cutting surface is comfortable and easy to hold onto. I thought I would need a grip pad underneath to assist with using the set and not having the board slide; I was wrong. The board did not slide around at all, even when only using one hand to cut an apple on it. The cutting board design is by John DiSanti, actor and craftsman. The piece is a gift of its own and could even be personalized. I could see the date of a wedding engraved into the wood and a gift that will serve a happy couple for years and generations to come.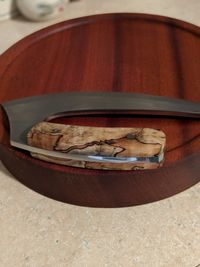 A small side note: This set is easy to use in a sitting position. Having RSD, a rare form of neuropathic dystrophy, being able to have the help of this knife in the kitchen is freedom.  There's a feeling of satisfaction from helping others that is often lost for many with physical limitations. With this, there is no need to try to put your body into the cut, since the blade slices smoothly with its balanced weight, helping you pass through your veggies or apples for pie. The great thing about this material, AEB-L stainless with a stonewashed finish leaves no staining or rusting issues, and its solid structure makes for easy clean up. 
 A custom sheath is also available, designed and made by Matt Berkhouse, and it is beautiful! I loved the workmanship right away. It has a snap to hold the blade, but the blade did come out of the sheath without much effort, although perhaps a bit tighter might be a good idea for a blade of this weight and length. 
The Wicket Ulu is a ten inch blade with spalted maple handle. It's a combination that adds to the comfort in your hand. Especially with a seasoned cutting board, this is a out of the box set that could please anyone. 
It would make a special gift or perhaps be the blade for your kitchen which you can pass down to the next generation, a useful memento from an enthusiastic collector like this writer. 
If you love to cook, or someone in your house does, check out this set designed by Tyser, Berkhouse, and DiSanti at rtcustomknives.com. It will make a great gift to you for your own kitchen.