0:00/34:20

0:00/22:25

0:00/48:14

0:00/37:08

0:00/22:15

0:00/31:58

0:00/42:11

0:00/35:33

0:00/26:10

0:00/32:11

0:00/35:59

0:00/42:46

0:00/34:45

0:00/38:45

0:00/27:13

0:00/25:55

0:00/48:09

0:00/52:41

0:00/49:35

0:00/35:29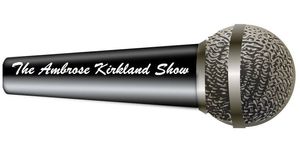 Ambrose Lee Kirkland lll
He is a Cancer survivor who does not know the word fear and a force to be reckoned with.
He is a proud son, a care giving brother, and the best uncle who ever lived according to his many nieces and nephews
He is a friend to the end and a mouthpiece to the quiet.
He is the kind of man that when the chips are down you want him in your corner because he can fight the good fight.
He is an inspiration to his many friends, whether on social media, on the Breast Cancer websites, or around the city of Tallahassee.
Ambrose Kirkland has lived a tough life and by many standards he should not still be here, but as you can still see, he is, and what an impact on the world he is making.
He is the eleventh child of the late Ambrose L. Kirkland Jr. and Lora J. Kirkland.
He has ten remaining siblings left out of twelve, in where he is the caregiver to his youngest sibling, Reba Kirkland
He's the author of two published books, Mama I Found A Lump and Mama's Journey.
He's also featured in the qualified for an Oscar nomination documentary "Pink and Blue, Colors of Hereditary Cancer."
Lastly, Ambrose Kirkland is a Male Breast Cancer Survivor and Advocate.